Difficulty: Easy
Handicap Zone: 10 And Up
Improvement in golf is measured by one thing only – consistently hitting LESS shots! Yes, I know it sounds like an incredibly obvious statement to make, but… let me give you one major pitfall that golfers tend fall into.
We are bombarded with golf tips online, television and from our friends during the weekend game. It's a good idea to explore these, but there must be some sort of filter for us as each golfer has a unique swing and set of fixes that goes along with it. There are also heaps of analysis of professional swings out there and we can learn a lot from them. Here we find a risky pitfall… we try to copy that swing we love so much. I mean, who would not want to swing it like the Big Easy or Mr Faldo! I personally can look at those swings all day long and I'm sure you have your favorite too. How much time do you spend on the range? Yep, same as me, just a few shots before the game. We don't have time to spend on the range to bring our game to the elite level that the examples above play at. But we do have time to try out that tip you learnt from your favorite player's golf swing. Don't! Let your local pro look at your swing to give you the sound advice you need to improve YOUR swing. It's good to compare your swing to another pro out there. Let your golf pro find the correct one for you.
There is a way you can apply what you already know much more effectively. It is really simple and sadly do not include a lot of flare or excitement. I'm going to give you advice that will limit your thoughts in to wanting to hit it six feet every time (this does not happen by the way… not even on the PGA Tour: Click Here). I am going to be slightly bold in saying that when you apply this small piece of advice, your next three games will show improvement.
The course is set up differently every time you play it but you can be guaranteed that the pins will not be in the middle of all 18 greens. There will be at least 12 holes where the flag is slightly to the side or tucked away in the corner. Look at the green and observe the flag position. When you plan an approach shot to the green (and I don't mean just the regulation shot, I mean ANY approach) you must look at the green and divide it into three sections of about 33% each. This can be from front to back or from left to right. If the flag is in the corner or to the side, it is in the RED zone – NO GO! If the flag is in the middle, you are a little off the hook, but still choose a side that is RED, usually the side where there is water or other hazards. The green zone is always in the middle. Yep, pretty boring but I did warn you. Have a look at hole number six at the Gary Player Golf Club, Sun City, below: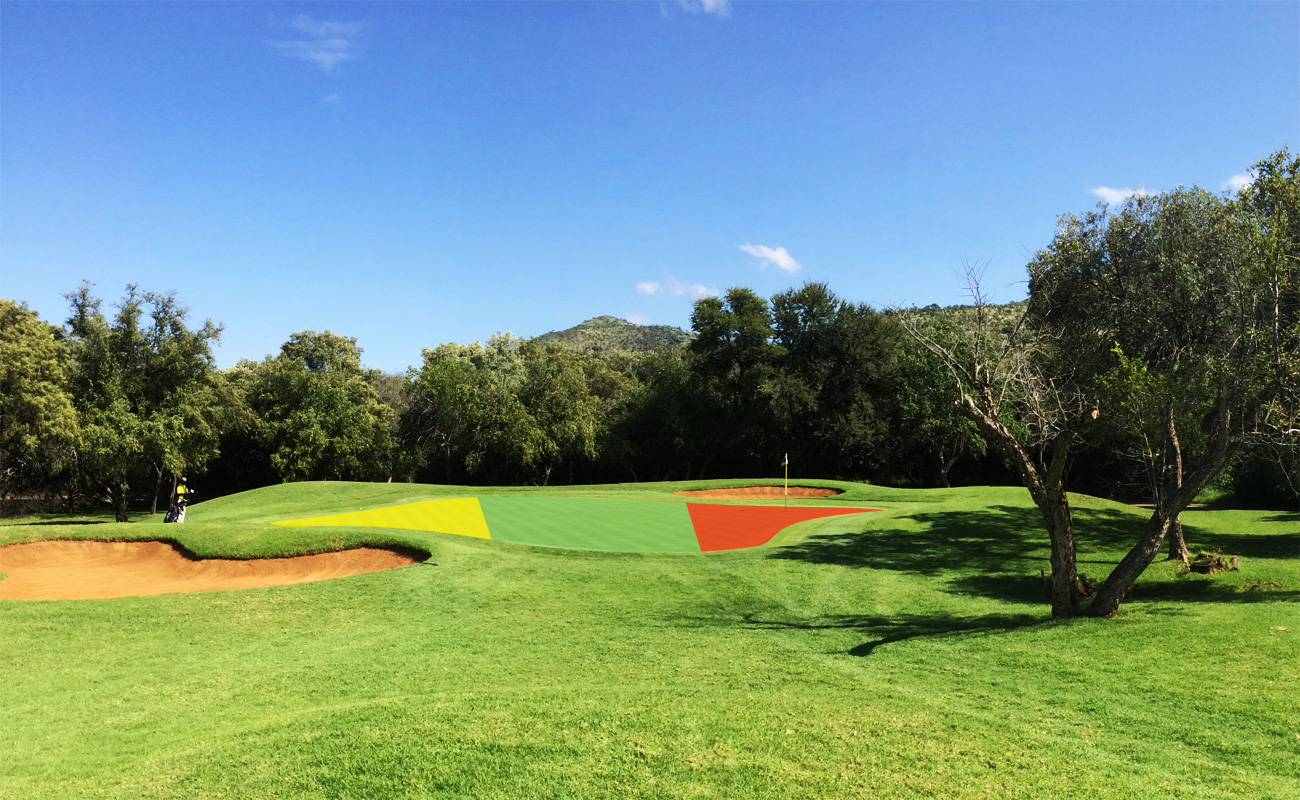 The flag in the corner is referred to as the Short Side. Missing this flag to the right will make it very hard to chip once (hopefully) and hitting one putt into the hole, although it is possible. But this is what I want to eliminate – that "possibility" thought process. Let's go for this flag 10 times in a row and let's go for the green zone also 10 times in a row and putt out. What group of ten shots will have the best result after counting all the shots together? I think it's safe to say that the green zone will win here. Not only will you have more birdie/par putts, you also have a bigger landing zone or aiming area that takes a lot of pressure off the approach shot. On the odd occasion that you hit the yellow zone, you still have a relatively easy putt but there will be some pressure on the feel of the first long putt. When you 'accidentally' hit the red zone, bonus! The green zone here also takes the bunkers out of play. Not only is it economical but it helps you focus on a good result in stead of being afraid of a bad one. This positively focused mind in the approach is certainly the better way to play this game!
Take this advice to your next game and apply it to all the greens. Put every cornered flag in the RED zone and aim for the GREEN zone. This thought process and technique moves your focus to what happens AFTER impact rather than BEFORE impact where we fall into that technical pitfall I spoke about earlier. The last thing you want on the course is to get wrapped up in the technical movements of your swing to get closer and closer to the flag.
Thanks for reading!
Al,
Head Golf Pro
Rovos Rail Golf Tours